Mrs Geist's Class is yet another spanking and caning video release from Mood Pictures. It takes place in a contemtorary class room and features a group of very attractive looking female students - and, sadly for the girls, the teacher Mrs Geist. We meet the girls in a middle of a test in the classroom, and of course one of the girls can´t stand the temptation to cheat. However the cheating girl Sandy had a close relationship with Mrs Geists, and when caught cheating she´s given a very erotic but in no way severe hand spanking. During Sandys spanking the other girls in the class discover, that she actually had all the questions and answers beforehand, and the girl Andie - who´s a stunning blonde featured in the Mood Pictures release Love Story - decides to tell on her classmate and inform the cheater.

Poor Andie hadnt foreseen though that the Mrs Geist's close relations to Sandy would count for more than Andies word. Instead of a reward Mrs Geist decides to punish her and delivers 25 hard strokes with a huge wooden paddle. The severity isn´t at all extreme but sufficient to make an impact, and certainly enough to make Andie truly mad at Sandy. Along with 3 of her classmates she plots to take revenge at Sandy, and does so by catching Sandy and her 2 friends in the middle of smoking and hence blackmailing them to take punishment - or be exposed. 4 girls take turns spanking Sandy´s 2 friends with a wooden paddle, the session is fairly light but the tension in the hair is certainly high, and it just adds to the atmosphere of humiliation that Andie stands right in front of the girls while theyre punished, looking at their sufferings.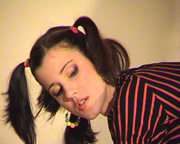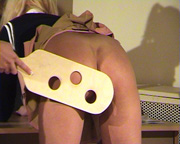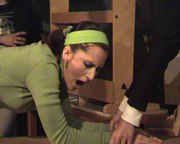 Afterwards its Sandy´s turn to have her punishment, and this definately is one of the highlights of the film. Much to her disliking she´s stripped naked, and while verbally humiliated given a rather severe punishment with her own belt on her bottom and back. During the punishment she´s standing up straight, arms behind head - and still with Andie right in front. The severity of the strokes brings out tears in Sandy´s eyes, and its clearly a struggle to keep in position and keep the count. The viewer is given very good facial expression shots of Sandy during her punishment, and its highly interesting to see how she seems to be fighting a battle to keep up appearances - and how she fails in the end. What makes this scene so brilliant though is the atmosphere. The punisher seems to be thoroughly enjoying herself. Sandy´s 2 friends in the background looking as though each stroke to Sandy´s back hit them twice as hard. It all adds up to a scene of pure perfection, that concludes itself with more humiliation for Sandy, who has to collect herself and get dressed with all the girls standing around her looking.

The scenery goes back to the classroom. Of course Andies plan doesnt payoff. Mrs Geist finds out about their blackmail, and interrogates the class to find out who plotted the punishments. When faced with a joint punishment, the girl who truly enjoyed herself bringing tears in Sandys eyes with the belt gives up Andie and her friend Laura. They´re both to recive 50 strokes of the cane. Andie is first to receive her punishment, that starts out with a series of pretty light strokes to her bottom. The intensity grows throughout the strokes though, and the final few from Mrs Geist are severe indeed. After 40 strokes though she hands the cane to Sandy and let´s her do the last 10. Whereas she doesnt have the technique of Mrs Geist, she´s surely enthusiastic about getting strokes delivered to Sandys bottom that will inflict maximum pain, and she seems truly joyfull about the opportunity. The caning of Andie alltogether is a good hard one, but not as extreme as some seen from Mood Pictures, and given the reactions Andie could actually have been taken further. The same certainly can´t be said for Laura, whose 50 strokes concludes the movie. She is hit full force on the bottom right from the beginning, and very soon it starts producing tears and screams. At 25 her bottom is bruised severely and she cries hard - it must have felt like an eternity to get from there to 50. Eventually she does though but the road to conclusion seem almost unbearable for her and Mrs Geist certainly shows no signs of mercy or remorse.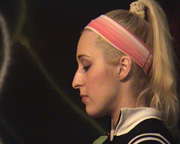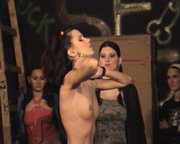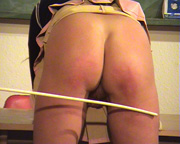 Mrs Geist´s class is a beautefull spanking and caning video with more or less all the elements fans of severe punishments would be looking for. The models being spanked are ranging from cute to extraordinarily attractive, the punisher too is a young attractive girl which adds an extra dimension. There´s inbuild tension and moments of utter humiliation along the way, that are way beyond the regular bottom up & get spanked movie. To reach complete perfection I have only minor details I could point out - the first two schoolyard punishments and the caning of Andie could´ve been harder. And then about psycology, the canings for instance, had they been done with the girl being punished facing all of their classmates, it would have produced an even higher level of humiliation, and in addition the viewer would´ve been able to follow the reactions of the other girls, and the girl waiting to be punished of course. Furthermore of course my usual complaint, the facial expression shots should be longer in time, better lit and closing up more on the girl, however Mrs Geist Class does actually mark an improvement in that area and does deliver some very interesting facial expression sequences.

Overall this is yet another classic from Mood Pictures. Technically brilliant and with a line of events that just drags the viewer along the adventures of the unfortunate class of Mrs Geist. Its pure pleasure and pain.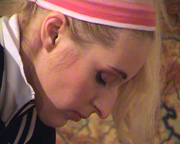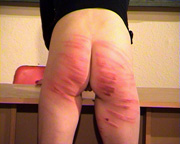 Fetish friends featuring webcam girls live in real naughty spanking