The Caning Competition Show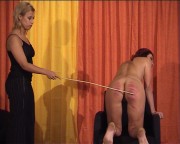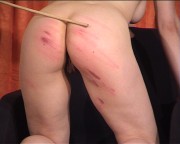 It may sound as though the foreplay goes on forever in The Caning Competetition show, but actually this reality show is more straight to the point than other Mood Pictures productions, and certainly gets to the action alot faster than most productions from competing companies like RGE Films / Lupus Pictures. Right after the interviews the 3 girls are given the first round of 25 strokes each, while completely nude kneeling over a chair. The caning is severe and leaves the deep red welts on their sore red bottoms Read it all>>
---
Mrs Geist´s Class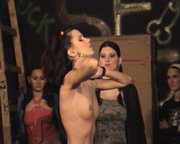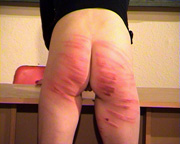 She is hit full force on the bottom right from the beginning, and very soon it starts producing tears and screams. At 25 her bottom is bruised severely and she cries hard - it must have felt like an eternity to get from there to 50. Eventually she does though but the road to conclusion seem almost unbearable for her and Mrs Geist certainly shows no signs of mercy or remorse. Read it all>>
---
The Thieves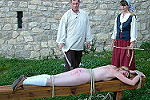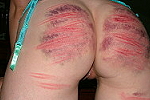 Pain4fem has released a series of strong and severe caning videos, that has put them in a league with RGE Films and Mood Pictures. The trip to the punishment bench becomes a thoroughly severe experience for the girls, who´s receiving a very high number of fullforce strokes directly on their increasingly bruised bottoms.
Read it all>>
---
STANFORD Prison Experiment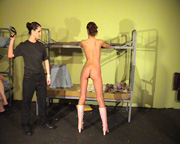 What this movie features is 2 beltings of disobedient prisoners, and 2 extravagantly hard canings, all administered with ever increasing pleasure and sadism by the female guards. The severity starts out moderately on the strappings, but as the guards grow increasingly sadistic in their discipline, the severity and intensity of the punishments grows significantly, and concludes itself with an extreme caning featuring no less than 103 hard strokes. As a supplement and a completely new feature one of the prisoners is subjected to pussy electro torture by the guards, not the most severe of scenes, but quite a great break in between the corporal punishments. Read it all>>
---
The Pioneers

Hiqh quality caning video from Pain4Fem reviewed.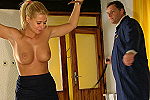 In the following sequences we´re seeing Martina daydream in her anger. First about another girl being given a severe strapping of around 50 strokes, and then visualising that the girl was actually Aneta. Daydreaming may not sound very intense, but actually these sequences feature fairly severe spanking and strapping, and with 50 strokes for each girl there´s plenty of time to produce red bottoms and moans. Read it all>>
---
The Exchange Student

Hard caning video release from Lupus Pictures reviewed.





Lupus Pictures (also known as the former Rigid East) is well known to produce severe caning videos of high quality. The Exchange Student is no exception, however, it does represent one new phenomenon in the Lupus line of movies - it stars an american model on the receiving end of the cane. Read it all>>
---
Love Story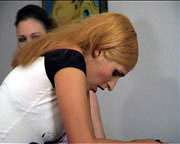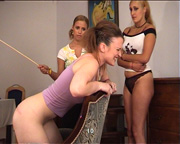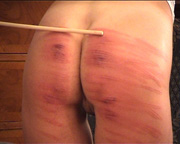 Mood-Pictures has quickly become one of the leaders in the hard spanking and caning video scene. They ´ve challenged the position of RGEFilms with a seriesof magnificent and truly hard productions. Love Story is yet another thrilling experience from Mood Pictures that features Andrea, who´s waiting for herboyfriend Peter to come home. Much to her surprise a girl named Lydia arrives instead, and it turns out they´re sharing Peter as a boyfriend. Read it all>>
---
Russian Slaves 30






The girls look fairly good, a brunnette and a blonde. The brunette goes first, and finds herself tied with the bottom up on a small table. A very strict looking female administers a long series of strokes to her bottom with a cane. The intensity of each stroke is very severe, some are delivered individually and others come in groups of 3 or 4 strokes - all adding to the intense atmosphere. According to the punisher the girl receives 52 strokes by the cane, and then some extra 8 for calling her a bitch. I doubt it was quite that many in reality, as some seem to be featured twice from different angles. Nonetheless, there´s alot of strokes given at full force, and the poor girl is crying and begging throughout much of her punishment, Read it all>>
For more visit Free Adult Sex Cams and Hardcoreflesh: Porn videos, live cam chat and online casual hookups